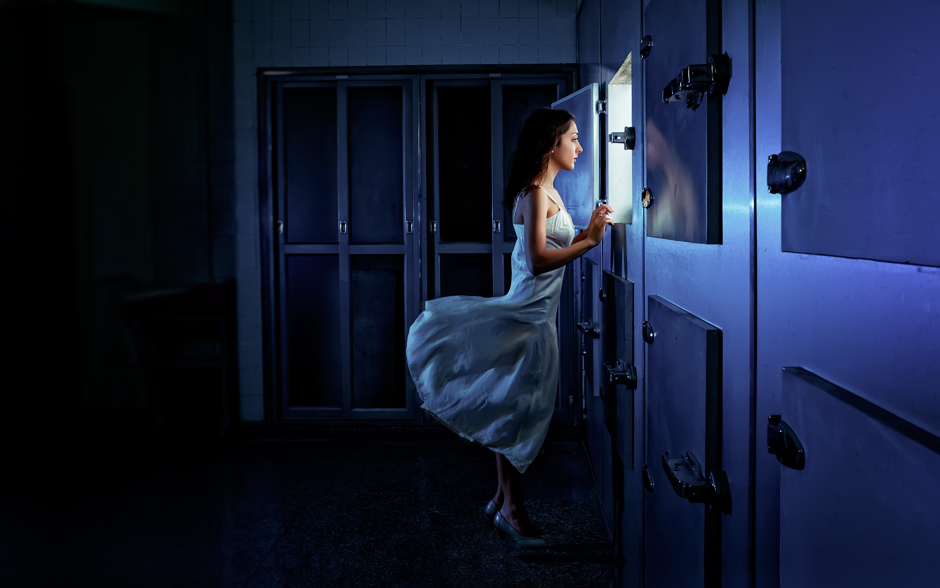 This shot was taken a while back when I went out to the Linda Vista Hospital Shoot that Brooke Shaden arranged. The shot was actually the only planned shot I had in mind when I went there that day. I saw this morgue in pictures and I came up with this idea. I wanted to do it so it looked more surreal than creepy (although it might still be creepy to some). We found out later that this wasn't actually a real morgue but one built by some film or tv production.
I set to out to achieve a look where the room looks to be lit only from moonlight and the model would be lit from a glowing light from one of the compartments. We actually had a fan in there power by a Vagabond II, but it really wasn't strong enough to do much. In the end I am happy with the results as the lighting turned out like I had hoped. (see below for setup)
A big thanks to Olivia Clemens who came and modeled for me. She actually came up with the "dress flip" to make it look like it was blowing….brilliant! Down below I added a couple of shots I took of her before she had to get back to work. I wish we had more time!