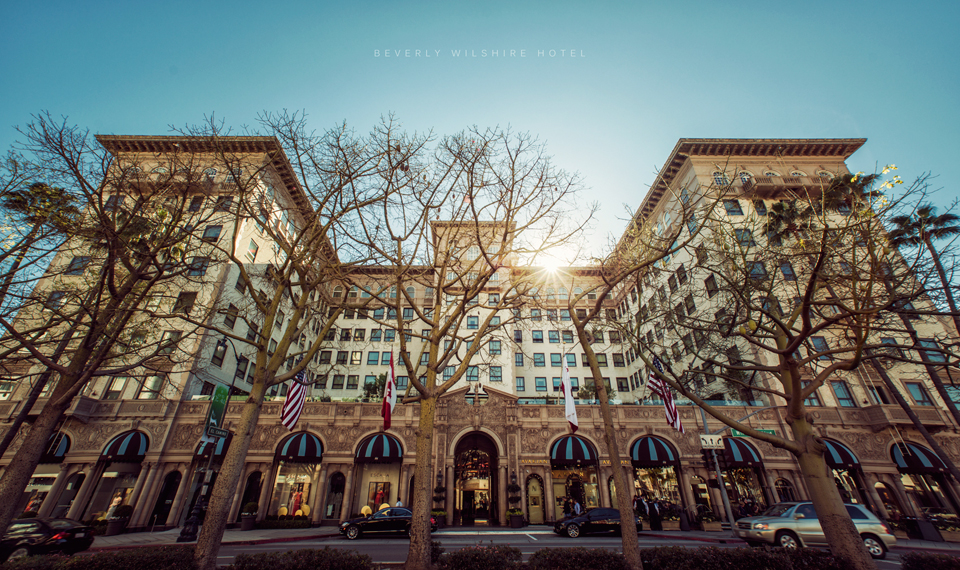 The significance of this picture? Other than being of the hotel from "Pretty Woman", it will most likely be the last image that I took with my trusty Sigma 14mm. In this post I will discuss a little about the lens, why I will no longer be using it and show some of my favorite images taken with it.
Sigma AF 14mm F2.8 EX HSM
When I first started photography several years ago I picked up a Nikon 24mm f2.8 for my wide angle. I soon found that I wanted something a little bit more wider. I considered the Nikon 20mm f2.8, but I felt that was too close to the 24mm. I soon started looking into what was the widest angle lens I could purchase for a full frame body.
The first option was the coveted Nikon 14-24mm f2.8 which was arguably one of the best ultra wide angle lens available of any brand. This was simply too expensive (retails for about $1,999). The second and third options was a Nikon 14mm f2.8 and a Sigma 14mm f2.8. Both lenses were discontinued at the time. The Nikon 14mm went for about $800 and the reviews were just average. The Sigma on the other hand was a little more common on the used market and went for about $500. I choose Sigma 14mm.
Over the years this lens has been a workhorse for me. It was one of my main lenses. I'll quickly go thru some of the pros and cons of this lens.
Pros:
* Focus: This lens has one of the closest focusing points of all my lenses. As you can see from the toy shot below it will allow me to get as close as 2 inches from the subject.
* Size: Although a big lens, it's a small compared to the Nikon 14-24mm.
* Rectilinear: It's not a fisheye!
* Internal Motor so it can be used with lower end bodies without a focus motor.
Cons:
* Flares & Glares: Its almost impossible not to get flares from light sources that is in the area
* Filters: ND filters can be expensive and you would have to modify something to attach it. I never used one
* Metal Lens Cap. After the first year the metal lens cap wore so it never fit snug. It always fell off when pulling the camera out of my bag.
Why am I ditching the Sigma?
The simple answer…the Nikon 14-24mm. We got a good deal on a used one from a friend. Over the last year or so I have been doing more portfolio photos of our Environmental Design work here at the studio which justified the addition cost. It remains to be seen how much better the new lens will be. I will keep you posted.
Below are some of my favorite images taken with the Sigma in the last several years.
1Y0-A04
HP0-J61
M2010-665
000-970
HP0-M57
CISSP
642-426
50-632
270-551
9A0-154
TT0-101
70-158
000-357
000-SS2
920-253
070-506-VB
GB0-180
HP0-921
00M-195
HP0-M14
A2040-915
C-BOWI-30
HP2-K18
HP2-H21
1D0-430
70-346
HP2-B103
MB7-638
HP3-C36
1Z0-853
000-914
HP2-K16
1Z1-540
646-985
1Y0-A24
HP2-B40
000-210
ST0-130
070-545-VB
HP0-S01
HP0-Y49
650-669
ST0-025
HP0-S11
ITIL-F-CHS
MB4-641
920-803
350-024
C2090-419
000-191
642-825
CAT-160
HH0-210
EE0-411
1Z0-521
642-647
CISSP-ISSMP
000-028
000-974
1D0-538
920-232
070-621
70-515
HH0-330
C2180-270
920-252
1Z1-147
C2010-565
C_TSCM52_66
SD0-302
920-533
CX-310-302
650-154
HP0-728
1Z0-889
000-386
000-280
050-649
9A0-150
920-345
TB0-105
000-965
000-086
PW0-070
JK0-U11
HIT-001
P_SD_64
000-705
920-334
310-625
351-018
000-M10
1Z0-532
000-N26
220-802